Who is behind AVE?
AVE is coordinated by two: Valéria and Valquíria.
Both are the founders and operators of the company Quadrado, they have been dedicated to researching art, books and mediation in cultural and educational institutions since 2000.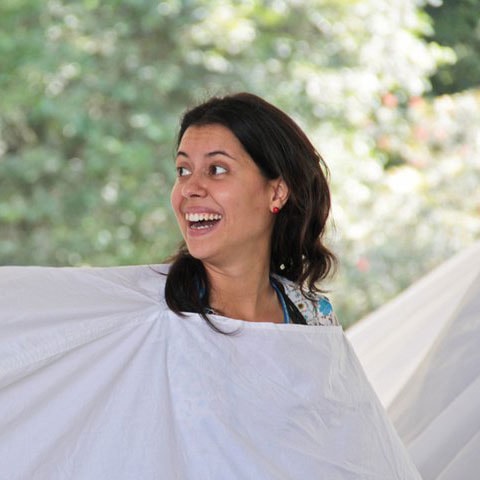 Valéria Prates Gobato
(1982, lives in São Paulo, Brazil)
Cultural producer, educator and project manager. She completed the following studies: Master's Degree in Creative and Cultural Industry at London Metropolitan University, UK; MBA in Cultural Heritage - Culture, Economy and Management at Fundação Getúlio Vargas, São Paulo, Brazil; Bachelor's Degree in Language and Portuguese Literature from Universidade de São Paulo - USP, São Paulo, Brazil. Since 2012, she has been coordinating educative teams and projects in different cultural institutions, such as Fundação Bienal de São Paulo, Tomie Ohtake Institute and Museu de Arte do Rio - MAR, Rio de Janeiro, Brazil.
She has been researching illustration, reading and education for 14 years as well as developing pedagogical projects and publications in schools and institutions both in Brazil and abroad.
email: valeria@ave.art.br
Valquíria Prates
(1977, lives in Águas de São Pedro and São Paulo, Brazil)
Educator, curator and writer. Since 2000, she has been working in collaboration with museums, schools and cultural institutions developing education, training and mediation programmes.
She is currently studying a PHD in Creative Processes Applied to Education and Art, at the Instituto de Artes da Universidade Estadual Paulista - IA|UNESP, under orientation of Professor Rejane Coutinho. In accordance with the research being developed, she has organised, in collaboration with curator Jochen Volz, the reference book Incerteza Viva – Processos artísticos e pedagógicos na 32 a Bienal de São Paulo [Live Uncertainty, Artistic and Pedagogical Processes at 32 nd Bienal de São Paulo].
email: valquiria@ave.art.br